Traditional Winter Sports
Whether a beginner, advanced, or a member of the national team – the winter sports scene in Oberhof is an extremely diverse tradition and offers the perfect training conditions for every age and every requirement. This is because Oberhof is at an altitude of about 860m, meaning the region often sees snow. Whether you are on a cross-country track or prefer to glide downhill on skis or snowboard over the snow, the choice is entirely yours. All winter sport fans are welcome in the family skiing area in the Oberhof holiday region – whether it's the Fallbach ski jump, the old gold course or the unspoiled winter landscape of the Thuringian Forest.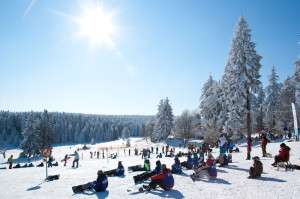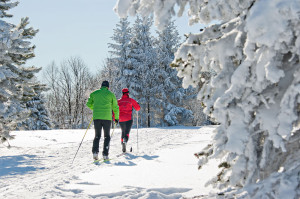 Winter Holidays for Active People
If you want to try out a range of boards and skis, then there are plenty of rental locations which will provide you with all the gear you need. And once you're finished exerting yourself, you can reward yourself by visiting our new sauna which can be used free-of-charge and is also perfect for rainy days. We will gladly take over all the organisation for your winter holiday so that you can dedicate yourself to your sporting goals. Just take a look at our package deals [Link auf] and offers specially made for fans of the outdoors like you.
You can find more information on the various winter sports offers in the Oberhof holiday region at: www.oberhof.de.